Extreme Weather
keeping you up to date on the latest extreme weather around the world.
Global
Record 7 million displaced by extreme weather in first six months of 2019
Extreme weather events displaced a record seven million people from their homes during the first six months of this year. This figure thats 2019 on pace to be one of the most disastrous years ever, says The New York Times. And this was before Hurricane Dorian destroyed parts of the Bahamas. Extreme weather events displaced a record seven million people from their homes during the first six months of this year.
Credit: Abdirazak Hussein Farah/Agence France-Presse — Getty Images
United States
Houston Swamped by Second Major Flood Event in Two Years
Tropical Storm Imelda is now America's 5th-wettest tropical cyclone ever iin the Lower 48 states. Hundreds were rescued in what officials called an 'incredibly dangerous' situation. 'We Shouldn't Be Used to This,' Alejandro De Almaida told The Houston Chronicle. "Harvey was the 500-year flood, so we weren't expecting this after two years."
India
India Notches Hottest Summer Ever, Leading to Extreme Rain After Delayed Monsoon
Bengaluru: After the hottest summer in recorded history, India endured a delayed monsoon and widespread floods. Extreme rain events over central India tripled between 1950 and 2015, according to a 2017 study led by researchers at the Indian Institute of Tropical Meteorology (IITM), Pune, affecting about 825 million people, leaving 17 million homeless and killing about 69,000.
The probability of similar flooding in the years to come is high, driven by a global rise in temperatures, according to an October 2018 report by the Intergovernmental Panel on Climate Change (IPCC).
Globally, floods made up 47 percent of all climate-related disasters from 2006 to 2015, up from 40 percent in the 1996-2005 period, says the agency's 2015 report.
Southeast Asia
Free Gas Masks in Kuala Lumpur as Toxic Timber Fires Spread Across Southeast Asia
With noxious layers of smoke and ash smothering parts of Southeast Asia, Indonesia accused the nation's timber and plantation industries for the fires while Malaysia handed out free N95 masks in its capital Kuala Lumpur.
Across Southeast Asia, haze closed schools in Malaysia and Indonesia and caused air traffic disruptions across the region. Malaysia reported a 16 percent increase in people suffering from asthma this week compared with the average in the past 10 weeks. Those suffering from conjunctivitis rose 25 percent in the same period.
Japan
Tokyo Floods and Landslides Displace 900,000
Tokyo authorities ordered 900,000 people to leave their homes, while another million were advised to move to safety, following torrential rain and floods and landslides.
"We are seeing unprecedented levels of heavy rain," said the Japan Meteorological Agency. "It is a situation where you should do your best to protect your lives."
REUTERS, KYODO, AGENCE FRANCE-PRESSE
United States
Extreme Weather Shortens Illinois Apple Picking Season
Illinois farmers are warning of slim pickings at local apple orchards because of 2019's extreme weather. The decrease in apple yield is due to a year of extreme weather that began in with a record cold January polar vortex, followed by a cold and snowy spring, and finally hail storms. Farmers said this is the first time ever where the apple crop was so badly affected by the weather.
EUROPE
Inside Climate News - The extreme heat wave that has gripped Europe and sent temperatures soaring to 114 degrees Fahrenheit was made at least five times more likely by global warming, scientists with the World Weather Attribution group said Tuesday.It was a quick and unambiguous finding, a judgment that in past times would have been harder to declare without heavy hedging.
The week of heat threatened vulnerable older people, damaged roads and railroad tracks and forced a rescheduling of national school exams in France. The Swiss meteorological service called it one of the most intense heat waves in that country's history and said the heat had a clear climate change signal.
Wildfire in Tarragona burns out of control after razing more than 4,000 hectares
El Pais -l A wildfire in Torre de l'Espanyol, a municipality in the Catalan province of Tarragona, continues to burn out of control after devastating more than 4,000 hectares in the municipality and surrounding areas in Vinebre, la Palma d'Ebre, Flix and Maials. Authorities have warned that the fire has the potential to consume 20,000 hectares of land.
A wildfire in Torre de l'Espanyol, a municipality in the Catalan province of Tarragona, continues to burn out of control after devastating more than 4,000 hectares in the municipality and surrounding areas in Vinebre, la Palma d'Ebre, Flix and Maials. Authorities have warned that the fire has the potential to consume 20,000 hectares of land.
Tens of Thousands Flee Extreme Heatwave in India as Temperatures Topping 120°F Kill Dozens Across Country
Eco Watch - Nearly 50 people died on Saturday in one Indian state as record-breaking heatwaves across the country have caused an increasingly desperate situation.
Officials in Bihar reported that as of Monday, 76 people in total had died of heat-related conditions as temperatures in the region hovered around 113 degrees Fahrenheit. Hospitals have increasingly overflowed with patients reporting heatstroke since the heatwave began in early June. Officials on Sunday asked Bihar's 100 million people to stay inside Monday as fears of more fatalities grew. About two-thirds of India is facing the heatwaves at the same time that roughly half of the country is struggling through its worst drought in six decades. Thermometers registered 118 degrees in Dehli last week, while in Rajasthan, residents suffered through a 122-degree day last week.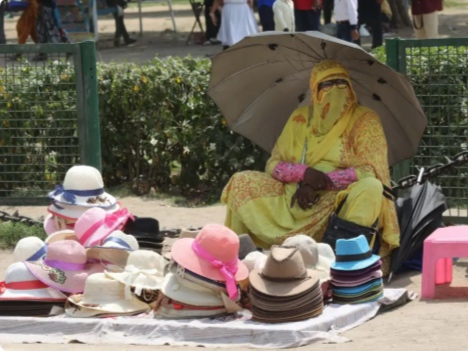 'Incredible' freak hailstorm causes chaos in Mexico's Guadalajara city
Homes damaged and vehicles swept away by 'never-before-seen' summer weather in one of the country's most populated cities
"I've never seen such scenes in Guadalajara," said the state governor, Enrique Alfaro.
"These are never-before-seen natural phenomena," he said. "It's incredible."
Guadalajara, located north of Mexico City and with a population of around 5 million, has been experiencing summer temperature around 31 degrees Celsius (88 degrees Fahrenheit) in recent days.
Gulf region sizzles in summer weather five degrees above average
Iraqis suffer the most as lack of electricity and clean water leaves them suffocating
The National - The Middle East's scorching heatwave intensified across the region this week, with temperatures rising as much as 8°C above average in some areas and expected to cross 50°C in countries from Iraq to Arabian Gulf states, a climate change analyst said.
"Climate change is expected to worsen the frequency, intensity and impact of some types of extreme weather events, especially heatwaves," Diana Francis, atmospheric scientist at New York University Abu Dhabi, told The National.
In Iraq, the heat is felt particularly acutely. "We are in the midst of a heatwave with no electricity or water; I feel like we are being punished. The state of an Iraqi citizen is a tragedy," Baghdad resident Ahmad Hussein told The National. "This heat has no mercy on anyone not even animals, it is unbearable."
Floods, Tornadoes, Snow and Tennis Ball Hail
Oklahomans were told to evacuate Tuesday night after severe weather and heavy rains battered parts of the Midwest and Great Plains, dumping 3 to 4 inches of rain over 30 hours. " This is supposed to be a 500-year-flood," an Oklahoma office said.
In southwest Missouri, three people died Wednesday, due to tornadoes according to the Missouri State Emergency Management Agency. The National Weather Service said a damaging tornado was spotted and tennis ball-sized hail was possible.
South: Mississippi River Has Been Flooding for 41 Days
A new round of powerful storms is causing more flooding in multiple states, with parts of the Deep South, impacting about 40 million Americans. Along the Mississippi River Valley, which has already endured more than a month at dangerous levels, more than 30 river gauges are reporting major flooding.
"In some parts of the Midwest and East Coast, extreme rain has already increased more than 50% since the early 1900s," said one official, explaining warmer ocean water is part of the problem, and record-high temperatures in the Gulf of Mexico act like an engine to make hurricanes larger and wetter.
India: Woman Covers Car in Cow Dung to 'Protect' It From 113 Degree Heat
A woman in western India went above and beyond to protect her car from soaring temperatures by covering the vehicle in cow dung.
Parts of India are recording temperatures of above 40 degrees Celsius (104 degrees Fahrenheit) this week, including Gujarat, Delhi, Punjab, Maharashtra, and Odisha, according to The Weather Channel. To ensure safety, officials in certain areas advised people to stay indoors between 10:30 a.m. and 3 p.m.
Temperatures In Northern Russia Hit 84°F Over The Weekend
Northwest Russia saw temperatures jump to 29°C (84°F) in Arkhangelsk, which is just below the Arctic Circle, over the weekend just as atmospheric carbon dioxide levels topped 415 parts per million (ppm) for the first time in human history.
"Not just in recorded history, not just since the invention of agriculture 10,000 years ago. Since before modern humans existed millions of years ago," tweeted meteorologist Eric Holthaus at the time.
"We don't know a planet like this."
According to the Washington Post, the temperature in this part of Russia is generally around 12°C (54°F) this time of year.